In addition to reports of imminent new US sanctions against Iran, President Trump continued to play up the possibility of further, more aggressive action over Iran's weekend test of a ballistic missile, insisting "nothing is off the table" in responding to Iran.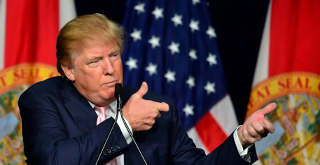 Some in the administration had already hinted of the possibility of military action against Iran yesterday, and Trump's comments just added fuel to that speculation. The US argues that the missile test may have violated a UN ban, though Iran insists that the missile was not designed to carry nuclear warheads, and thus it would not be covered by the ban.
Iranian officials downplayed the comments, with key official Ali Akbar Velayati insisting Trump's comments amount to "empty threats" and would not impact Iran's ongoing efforts to improve their conventional missile systems for defensive purposes. Iranian officials further dismissed Trump's comments as baseless, and said that even the visa ban simply reflected Trump's 'inexperience."
The Trump Administration has been playing up tensions with Iran on several fronts, however, with Trump claiming in an overnight tweet that Iran is "rapidly taking over Iraq," and that the US had squandered $3 trillion in war there.