The far-right Israeli government has been operating under the impression that President Trump would unconditionally endorse any measures they take in the occupied West Bank, reflected in multiple announcements of several thousand new settlement units in the area since the inauguration.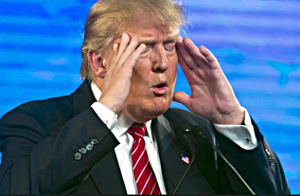 The White House, however, is warning Israel against carrying out any more such "unilateral" announcements in the near-term, saying they fear the settlements may not be helpful to the peace process, and that they want Israel to "hold off" pending talks later this month between Trump and Netanyahu.
The Trump Administration didn't totally abandon the idea they might be pro-settlement, however, insisting they they have not yet taking any official position, but that they continue to be hopeful of peace negotiations, and are leery of any moves that might complicate that.
Yet the "not helpful" terminology mirrors the Obama Administration's own statements faulting settlement expansion, and the fact that the Trump Administration spoke out at all is seen as something of a surprise, given President Trump's previous efforts to position himself as pro-Israel to the exclusion of any criticism, and so angrily reacted to a UN Security Council vote, before his inauguration, which faulted Israel's expansion of settlements as a threat to peace.
Analysts see the move as a reaction to Israel making such large, and frequent, announcements of settlement expansion so soon, and that the big concern for the administration is that Israel has been "surprising" them with such announcements instead of giving them some lead time to plan their own narrative.