In comments that signal a shift away from his talk earlier this week over the US resuming the use of torture on detainees, President Trump today confirmed in comments during a joint conference with British Prime Minister Theresa May, saying he is leaving the torture question up to Defense Secretary James Mattis.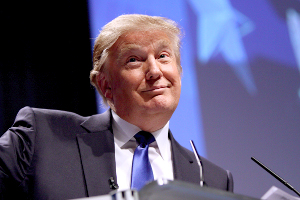 Mattis has made clear his opposition to torture, and his belief that it isn't effective, and despite Trump once again today insisting he believes torture works, he will defer to Mattis, and Trump says he expects Mattis to keep the ban in place.
This makes the entire discussion over the week about torture, with Trump insisting top intelligence chiefs had assured him torture was a great way to extract information, pretty pointless, as both Mattis and CIA Director Mike Pompeo had made clear their opposition to the practice, and Trump apparently did not intend to overrule them.
Trump also insisted during the news conference that he is confident the US will win the war against ISIS with or without the use of torture, which once again raises questions as to why he brought the idea up again in the first place, with his pro-torture comments during the campaign having been more or less forgotten in the face of Pompeo's and Mattis' public criticism of the idea.