Iraq's invasion of the ISIS city of Mosul has long been trumpeted as the "last" major battle against ISIS in the country, but with that offensive still limping along, Iraq has found itself launching a second offensive against ISIS, along the Euphrates River.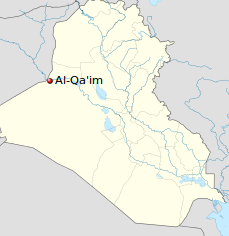 The offensive targets several towns in the Anbar Province, which again Iraq had presented as already having been "liberated," and aims to start at Aaneh, and would extend all the way to the border crossing at al-Qaim, which leads into ISIS-controlled Syria.
Qaim is the clear prize of the towns to be targeted, along the strategically important border with Syria, and across from al-Bukamal on the Syrian side, has been one of the most reliable official border crossings for ISIS to use between the two countries throughout the war.
Though Iraq could deal a major blow to ISIS in taking these towns, the effort also risks testing Iraq's logistics capabilities, as they already struggle with sustaining a Mosul invasion that is going much slower and facing much heavier resistance than they'd anticipated.