Russian Deputy Foreign Minister Sergei Ryabkov today confirmed that during the US presidential campaign, Russian diplomats held talks with the campaigns of both President-elect Donald Trump and former Secretary of State Hillary Clinton.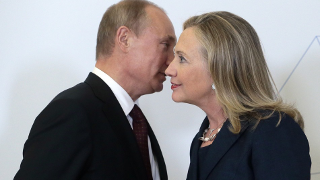 Ryabkov insisted the talks were at a "responsible level," suggesting that it was "routine, everyday work." He added that the talks with the Clinton campaign were "not always productive," likely reflective of the Clinton campaign spending much of the election accusing Russia of plotting to get Trump elected.
From the Democratic National Convention until the election, Clinton and her supporters repeatedly accused the Russian government of trying to "hack" the election to Trump's favor, and accused Trump of being a secret Russian puppet.
In a sign of how resilient this narrative is, in the absence of evidence, many of the media reports of Ryabkov's comments ignored the fact that he confirmed talks with both campaigns, and simply reported that he'd admitted to contacts with the Trump campaign.
Russian officials suggested that the Foreign Ministry's involvement was limited to seeking "clarification" of statements by the campaigns that related to Russia, and to convey interview requests on behalf of Russian media outlets.