It didn't take long for the final presidential debate in the US to be shifted to the Clinton campaign's favorite topic: accusing the Trump campaign of being involved in a Russian plot to hack the US election to his benefit. Indeed, it didn't even wait until the brief foreign policy segment.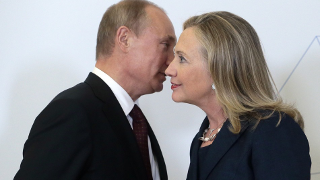 During questions about immigration, the moderator asked a question of Hillary Clinton regarding her comments at a closed-door speech to a Brazilian bank about open borders. Clinton quickly and dramatically changed focus, noting that the quote came from WikiLeaks and declaring "what's really important about WikiLeaks is that the Russian government has engaged in espionage against Americans."
She went on to declare that it was "clearly" Russian President Vladimir Putin behind the WikiLeaks releases, and insisted that the entire intelligence community had confirmed Putin was doing so "to influence our election." She then demanded Republican nominee Donald Trump "admit" to it.
When Trump noted that Clinton has "no idea" who was behind the hacks, and that he'd never even met Putin, Clinton declared that Putin wanted Trump elected to be his puppet as US president. Trump insisted it was Clinton, by contrast, who was the puppet.
Trump went on to say he'd condemn any foreign interference in the US election, no matter who it was, but did say that he thought if the US and Russia got along it "wouldn't be so bad." Clinton accused him of spouting "the Putin line."
The Clinton campaign has been accusing Russia of trying to hack the election since their summer convention, blaming them for materially every leak that proved embarrassing to her campaign. Since then, the allegations have gone hand-in-hand with claims that Trump is in on the matter. Russia denies any involvement in the hacking, and has noted there is no public evidence to support the claims.
Beyond continuing to advance these allegations, the debate touched on foreign policy in a limited fashion, with Clinton reiterating promises to impose a no fly zone in Syria to "gain some leverage on the Russians." When asked about the possibility of that starting a war with Russia, she shifted focus again to her confidence the no-fly zone would "save lives."