On Friday, ISIS overran an Egyptian military checkpoint in the northern Sinai Peninsula, killing at least 12 Egyptian soldiers and wounding six others. The Egyptian Air Force today announced they'd carried out three hours of retaliatory airstrikes.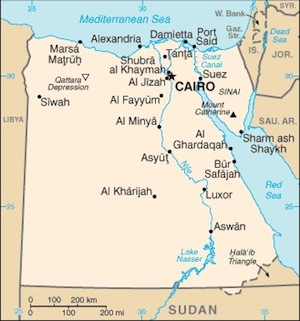 The Air Force reported over 100 ISIS fighters killed in the strikes, which they say targeted a series of outposts and armories across the Sinai Peninsula. The figures, as usual, are impossible to independently verify, as are claims that no civilians were slain in the bombings.
Egypt's military commonly claims massive death tolls after airstrikes, and tend to label everyone killed a militant. Such strikes tend to be followed in the days that follow by reports of civilian casualties, which the military junta always denies.
Egypt has been fighting an Islamist faction in Sinai for years, and the group declared itself an ISIS affiliate in late 2014. The group has been a major target since Egypt's 2013 military coup, after which the junta accused the ousted elected government of being in league with the militants.