Vague fears about the inherent safety of anything with "nuclear" in the name always keeps them a high-priority security target, as well as a priority for militant groups. But has anyone ever tried to do anything with such a plant? The IAEA today suggested they might've.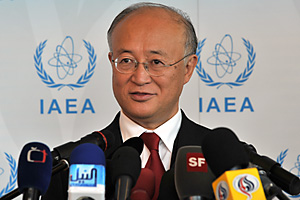 Director Amano Yukiya today reported that there was a "cyber attack" against an unnamed nuclear power plant in the last two or three years. The attack "disrupted" some unspecific operations, but didn't force anything to shut down outright.
Amano also revealed that about four years ago, someone at some other nuclear facility tried to steal some highly-enriched uranium, which might've been enough to build a dirty bomb of some sort, adding it was "not an imaginary risk."
Other security experts cited theoretical threats of "insider attacks" within the nuclear plants, though industry experts insisted that even such an infiltrator would likely be unable to do massive amounts of damage to a nuclear reactor.