An ISIS bombing attack targeted the Atmeh Province, which connects Turkey to the Nusra Front-held Idlib Province of Syria, targeting a group of Fallaq al-Sham rebels, part of the rebel coalition participating in Turkey's invasion of ISIS territory.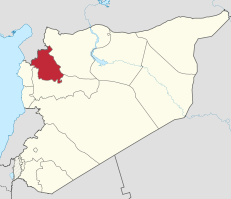 At least 25 people were killed in the attack, mostly rebels, and locals reported a substantial number of wounded, though exact figures on that were not released. A top rebel involved in military operations in Eastern Aleppo was also reported among the slain.
While ISIS has regularly targeted rival rebel factions, particularly those who are allied with foreign forces who are fighting against them, the fact that they were still able to infiltrate and carry out an attack in Idlib, now far from any ISIS-held cities, suggests they retain considerable capacity despite recent territory losses.
It also underscores the close relationship between Turkey and the Nusra Front, an al-Qaeda ally, that they are allowing Turkish-backed rebel forces to use border crossings into Nusra territory as an entry point. Why Turkey is still doing this, despite capturing considerable border territory during its own invasion, is unclear.