An airstrike carried out by an as-yet-unidentified warplane against the Libyan oasis town of Hun has killed at least nine civilians today, including a number of children. Local medical officials reported at least 20 people were wounded in the incident.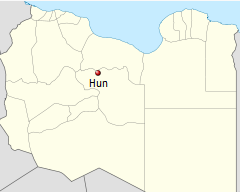 Hun is in territory near forces loyal to both the US-backed "unity government" and the UN-backed Tobruk parliament, but like most of Libya has a strong sense of local independence and isn't directly aligned with either.
Forces from the Tobruk parliament claimed warplanes from the unity government, flying out of Misrata, carried out the attack, but the unity officials denied this, saying their planes didn't stray from their usual reconnaissance operations along the coast.
The coast is where the vast majority of Libya's population lives, and it is rare for either side to get in any serious fighting this deep into the country. Both sides have fairly limited air forces, and it isn't entirely clear that either could reliably carry out operations this far inland.