Turkish Deputy Prime Minister Nurettin Canikli today suggested that the Turkish military, which invaded northern Syria two weeks ago, is preparing to go deeper into Syrian territory in the near future, suggesting that Turkey may ultimately want a deeper slice of Syria than just the 90 km border stretch.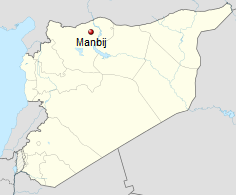 While this would include some ISIS territory deeper into the country, Canikli's comments centered heavily on the Kurdish YPG, and continued Turkish annoyance that they have forces west of the Euphrates River, and have not totally withdrawn.
Turkey made a big point, during their initial invasion, of saying that a major factor was the Kurdish expansion across the river, which Turkey had long insisted was a "red line." The main Kurdish territory on the west side of the river is in and around Manbij.
Turkish officials made it clear the 90 km stretch of land was their goal, but never how deep into Syria this was intended to reach. As they continue southward, they risk coming up against the frontiers of the Nusra Front and the Syrian military around the city of Aleppo.