Just a week after Taliban forces had entered and occupied the Janikhel District of Paktia Province, Afghan reinforcements have arrived and recovered much of the area. Fighting is still reported to be underway.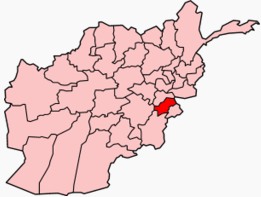 Janikhel is a long, narrow district which `spans the area from the Pakistan border into both Khost and Gardez, and control of the district would allow the Taliban to funnel fighters from Pakistan's tribal areas into much of southeastern Afghanistan.
A few hundred Taliban were able to overrun the district over the course of a weekend, with comparatively little fighting. The district governor complained provincial officials refused to send reinforcements, and that the provincial police beat him up for asking.
Indications are that there were far fewer Taliban here than in Helmand or Kunduz, and when a concerted effort was made, they were able to quickly reverse the Taliban's gains in the area. The Taliban is likely to keep a close eye on the region, however, as access to a direct route for fighters from Pakistan is a long-standing goal.