Comments from Republican presidential candidate Donald Trump questioning the wisdom of open-ended US military commitment to all NATO member nations should be ignored out of hand, according to Vice President Joe Biden, who today in Latvia insisted that no matter who is elected to what office, the US is permanently militarily committed to the Baltic states.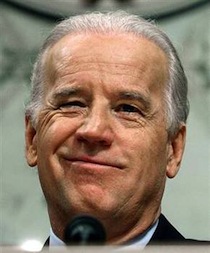 Biden insisted that the US had "pledged our sacred honor" to the NATO treaty, and that it would remain obliged to the alliance, saying that any comments by politicians to the contrary are "nothing that should be taken seriously."
Trump made headlines early in the primary season by question whether NATO was obsolete in the post Cold War era, saying that European nations that could afford to pay for their own defense, by way of suggestion that the US is spending too much money defending other nations.
This has sparked a lot of political rancor, including accusations Trump is secretly in league with the Russians, and a lot of hand-wringing from NATO's states along the Russian frontier, particularly the Baltic States, which keep predicting an imminent Russian invasion of Europe, which has the administration looking to placate those nations by reiterating their commitment to them.