Pentagon spokesman Col. Chris Garver today confirmed that several hundred vehicles which they identified as "an ISIS convoy" was allowed to flee from the city of Manbij after its capture by the Kurdish-dominated Syrian Democratic Forces (SDF).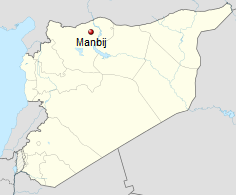 This was a significant change from what happened earlier in the fight over Manbij, when the US saw another convoy they figured was ISIS and pounded it with airstrikes, killing around 200 civilians and no ISIS fighters. This sparked calls from allied rebel factions for the US to stop bombing Syria in general.
This time, the US apparently left the matter up to the Kurds, and Col. Garver said it was a decision of SDF commanders to let the convoy go, noting that there were large numbers of civilians in the convoy, along with what the US estimated was a number of "ISIS commanders." The fleeing convoy headed into ISIS territory further west, and US officials noted many fled all the way into Turkey.
It's unclear how many actual ISIS were in the convoy, but both the US and Kurds are keen on that narrative, and the idea that the civilians "may have been hostages." In reality, many of Manbij's Arab population have feared a campaign of ethnic cleansing after the Kurds took over.