A Sunday suicide bombing against a bus at the Syria-Turkish border has seen its death toll rise dramatically overnight, with the latest reports suggesting that as many as 50 rebel fighters were killed, and that the fighters were from US-backed rebel groups, including Nour al-Din al-Zinki and Failaq al-Sham.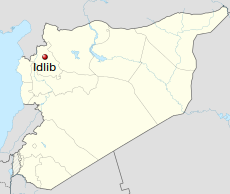 ISIS issued an online statement claiming credit for the attack, saying they believe the fighters, who were crossing the border at Atmeh, in Idlib Province, were heading for northern Aleppo to fight against ISIS forces in the area. The Idlib Province is mostly under the control of the Nusra Front.
The Syrian Observatory for Human Rights confirmed "at least 32" people were slain in the bombing, and said that they had reports that two of the people on the bus were actually soldiers in the Turkish military. Turkey is well known to back several rebel groups in the area, including Nusra, though having troops inside Idlib would be new and potentially very important.
ISIS controls much of the Syria-Turkey border in Aleppo Province, while the Nusra Front controls virtually the whole Idlib Province crossing, and Syrian Kurdish forces have the further east Hasakeh Province. Many rebel factions rely on crossings to get weapons and fighters into the country through Turkey, which has made such crossings both a hugely important military goal for many, and a popular target for the rivals of those who control them.