Pro-Saudi ground troops backed by warplanes attacked a pair of cities in the southern Abyan Province, along the Yemeni coast, with officials claiming to have gained "complete control" of both Zinjibar and Jaar, the two largest cities in the province.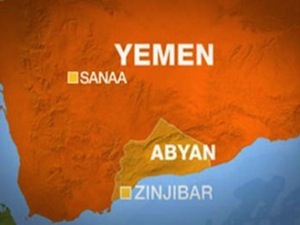 Zinjibar, as well as the surrounding area, has a long history under control of al-Qaeda in the Arabian Peninsula (AQAP) and its affiliates, having been under their control as far back as the Arab Spring protests. They've been expelled, intermittently, but returned again in force amid the Saudi invasion of Yemen, as the Houthi forces there moved to repel the invasion and left the area mostly undefended.
Officials claimed at least 40 people were killed over the course of today's fighting, all of them "AQAP suspects," and that three Yemeni soldiers were also killed in the fighting. A suicide car bombing was reported in Zinjibar, but there were no casualties in it.
They also claimed a large number of AQAP had "fled," but it's unclear where they actually went. If history is any indicator, however, they'll start trickling back into Zinjibar as soon as it falls off the radar in favor of some other military goal.