Ukraine's General Staff spokesman Vladislav Seleznyov today sought to downplay concerns about the situation on the border with the Crimean Peninsula, insisting that the Ukrainian military has all the resources and power necessary to defend itself from any situation that might unfold.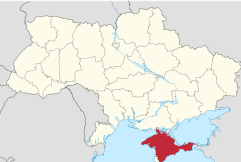 Ukraine has been building up its military along the Crimean border in the past few days, after Russia reported a weekend incident in which people from the Ukrainian side, who they identified as government spies, attempted to infiltrate the peninsula, killing a Russian soldier and an FSB member.
Seleznyov has claimed Russia invented the claims as part of some plot to take aggressive action against Ukrainian territory, but insisted that the military could "adequately respond to any aggressive action" with the present level of preparedness.
As tensions continue to rise, these comments should at the very least calm some of the bellicosity from NATO member nations about the Russian frontier, as Ukrainian officials insist they believe they can handle the situation themselves, and don't need NATO gearing up for World War 3 over the Crimean Peninsula.
Last 5 posts by Jason Ditz