Reports out of northern Syria suggest that, after two months of fighting, the US-backed Syrian Defense Forces (SDF) are on the verge of capturing the ISIS city of Manbij, with an SDF spokesman claiming that 90% of the city is now under their control, and ISIS only remains in pockets around the city's center.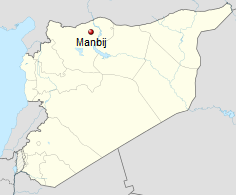 The SDF, which is overwhelmingly made up of the Kurdish YPG, launched its offensive against Manbij in early May. The city is along the main route between ISIS' territory on the Turkish border (cities like Jarabulus) and their de facto capital city of Raqqa. Without Manbij, the route between the two is longer, and more dangerous.
While the SDF is presenting the victory as only "a matter of time" it has been an ugly and difficult effort, with the previous SDF gains getting reversed in a big counteroffensive, and US airstrikes against the region killing hundreds of civilian bystanders, fueling unrest and lowering morale among SDF fighters, who fear that their affiliation with the US is hurting their credibility.
Though 90% control indeed suggests ISIS is on the verge of losing the city, their ability to organize quick and effective counterattacks, as they've done previously, means they're never really "out" of a city if they don't want to be, making the real question not whether they will lose Manbij, but whether they have decided to shift their own forces elsewhere and stop contesting Manbij.