Airstrikes have hit a hospital in the town of Meles this weekend, in just outside of the Idlib Province capital city, shutting down the hospital and leaving at least 10 people dead and a number of others critically wounded.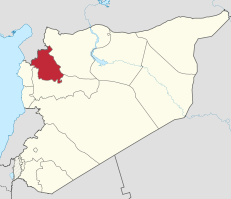 Witnesses reported the hospital was hit with four airstirkes in a short period of time. The Syrian Observatory for Human Rights says it is unclear whether the planes were Syrian or Russian in origin. A second hospital in the Idlib town of Sarmin was also reported "out of service" after a strike, but no casualties were reported.
The Idlib Province is controlled by Syria's Nusra Front, a long-time al-Qaeda affiliate which recent rebranded itself as Jabhat Fatah al-Sham. Syria and Russia have regularly attacked the province, trying to prevent the Nusra forces from expanding westward into Latakia, or to add more reinforcements eastward into Aleppo.
Unfortunately, as with fighting elsewhere in northern Syria, the strikes seem to be hitting a lot more civilians than combatants. As Nusra looks to add to weekend gains in Aleppo, expect the strikes to pick up even more in the coming days, as they desperately try to prevent losing more ground.