A pair of suicide bombings against the Kurdish city of Qamishli, in the far northeast of Syria, has caused a massive number of casualties, targeting the Kurdish security headquarters in the area. At least 67 people are confirmed slain, with 185 others wounded. This toll is expected to rise, with many buried under the rubble.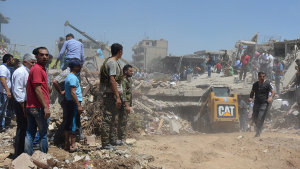 The attacks began with a massive truck bombing in front of the headquarters, and a secondary motorcycle bomber hit the same area a few minutes later, likely aiming to hit people trying to rescue any survivors. The attacks leveled a significant portion of the targeted area.
The Hasakeh Province, and Qamishli, are under the control of the Kurdish YPG, who leads the SDF faction presently attacking the major ISIS city of Manbij, further west. ISIS has repeatedly targeted Kurdish cities recently, though this is an unusually large one.
Qamishli has been under the YPG's uncontested control for awhile, but Kurdish forces fought against Syrian military forces attempting to enter the city back in April. Exactly what happened there is unclear, as the Syrian military has largely supported the YPG is resisting ISIS in the region.