Speaking at an international conference aimed at fundraising for the humanitarian costs of the war, Secretary of State John Kerry once again talked up how great the ISIS war is going, claiming "momentum has shifted" and presenting victory as virtually inevitable, but only a "short-term success."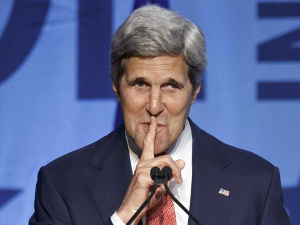 Rather, Kerry sought to emphasize US plans for Iraq "after ISIS" as the real focus of the increasingly large operation with a growing ground component, insisting that "stabilizing" parts of the country liberated from ISIS needed to be a priority.
Iraq has struggled with this so far, to put it mildly. After "liberating" Sunni Arab cities from the control of the Sunni ISIS, the local population is quickly put at the mercy of Shi'ite militias, with looting, torture, and summary execution recurring themes across the country, with the Shi'ite-dominated government looking the other way.
The US has repeatedly complained to Iraq about their inability to bring "unity" to such cities, but like the Abadi government are treating it as very low-priority, focusing instead on their military buildup.
Kerry's talk of the "after ISIS" situation also calls to mind comments last week from Gen. Joseph Votel, who in confirming Pentagon plans to send even more troops to Iraq in the future, insisted that defeating ISIS wouldn't lead to any drawdown, as the US intends to retain its "capabilities" in Iraq long beyond the war itself.