What was supposed to be a summer-long leadership battle among Britain's Tories in the wake of the Brexit vote boiled down to a default judgement today, with Andrea Leadsom suddenly withdrawing from the race, meaning Interior Minister Theresa May will take the post without a contest, after David Cameron resigns on Wednesday.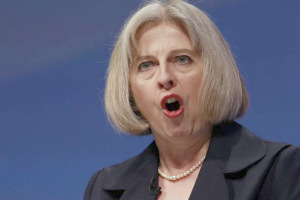 This not only obviates the need for a Conservative Party leadership vote, but also ends the chances of any real shakeup after the Brexit, since May, like Cameron, was an outspoken opponent of the Brexit vote. May has, however, committed to follow through on the Brexit referendum.
Still, it is almost shocking how quickly all of the pro-Brexit Conservative politicians fell out of the race amid infighting over which would be the Brexit candidate. Ultimately, none of them was, and the anti-Brexit crowd remained in power.
What will the "new" May government mean for Britain? Probably not much. May was largely a supporter of the same positions as Cameron, was a supporter of the Iraq War, had advocated Britain withdrawing from the European Convention on Human Rights as a way for the British government to retain the power to violate human rights, and famously fell asleep last week during the debate on the Chilcot Inquiry in parliament.