After 12 days of fighting over the area, Syrian troops finally took control of the down of Maydaa, the easternmost outpost of the Jaish al-Islam rebels in Eastern Ghouta. The town had served primarily as a supply route into the rest of the area.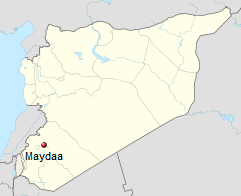 Troops had Maydaa surrounded for quite some time, and had been pushing into it since late June. Their capture of the town not only weakens the general status of the rest of rebel Eastern Ghouta, but relieves the Syrian air base of Dumeir, as Maydaa was the closest rebel compound to it.
The Syrian state media claimed "large groups" of rebels were killed in the fighting, though no official toll was released, nor was there any third party reporting on the casualties from the fighting. In a case such as this, many of the rebels likely fled, releasing the town was no longer possible to defend.
The fighting over Maydaa continued through the 72-hour Eid al-Fitr ceasefire, despite the Syrian military presenting it as nationwide and all-encompassing. Officials confirmed the fighting, but offered no reason why it wasn't covered by the ceasefire.