The US-backed offensive against the ISIS city of Manbij, which for the past week had been reported as having pushed right to the edge of the strategically important city, suffered a significant setback Monday morning, with ISIS forces pushing into nearby villages that had been captured by the Kurdish YPG.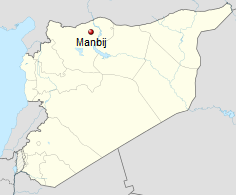 Two villages were retaken by ISIS in the push, sparking claims that ISIS was engaged in summary executions of villagers, and reports suggesting they'd captured some 500 Kurds to be used as human shields in the upcoming fight.
This Monday morning push, in northern Raqqa Province, followed a Sunday night offensive against Syrian government forces in southern Raqqa, and between them have a bit more breathing room in their defense of territory around their capital city.
Reports from the Syrian Observatory suggested the southern offensive involved 300 ISIS fighters. There was no word on exact numbers in the Manbij-area push, but by all indications it was a much smaller number.