Backed by US airstrikes, and with US special forces embedded within, the Kurdish YPG and its allied have surrounded the ISIS-held city of Manbij in northern Syria, announcing today that they have captured the "last road" leading into the city.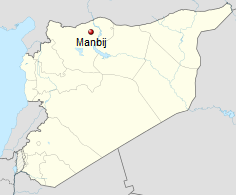 The offensive, launched north of Raqqa late last month, but which officials of the YPG insisted didn't target the city of Raqqa, seems to have centered on Manbij being its primary target, with the city repeatedly targeted by airstrikes and shelling.
According to the Syrian Observatory for Human Rights, over 130 ISIS fighters, along with at least 30 civilians, have been killed so far in the offensive. The city is on a highway connecting Raqqa to ISIS' possessions in Aleppo Province, making it strategically valuable.
This offensive in the north received a boost last week when the Syrian military launched its own attack against ISIS targets in southern Raqqa. Between these two, ISIS was forced to abandon its own offensive in Aleppo and concentrate on defense, with losses mounting on both fronts.