In a move that is being described as the first US airdrop in Syria for a force other than the Kurdish YPG, US forces have dropped shipments of weapons and ammunition into Marea, a town contested between a collection of rebel factions and ISIS.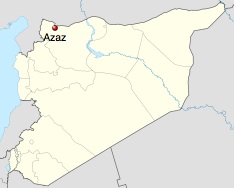 The Syrian Observatory for Human Rights had reported that the air drop included anti-tank weapons as well as ammunition, though the Pentagon denied the claims of any anti-tank weapons being involved. ISIS has been pushing into this area for weeks now, driving the rebels into a shrinking area around Azaz.
Azaz, and nearby Marea, have been a much sought after target throughout the Syrian Civil War, as the area is near a major Turkish border crossing. Turkey has closed the border recently, however, which has meant supporters of this Sunni Arab rebel coalition is increasingly trapped in a small territory along the Syrian side of the border.
Though the Pentagon hasn't previously airdropped weapons to any rebel factions other than the Kurds, the CIA has been arming most of these same rebel factions for years. The expansion of this to include an airdrop, however, reflects how bad things are going in the area, with ISIS on the brink of taking Marea, and pushing on to Azaz.