Described by the Syrian Observatory for Human Rights as the biggest ISIS advance in the Aleppo Province in two years, the Islamist forces moved against rival rebels in the area along the Syria-Turkey border, pushing them back into a shrinking zone along the border and coming within just 3 miles of the key border town of Azaz.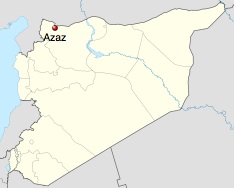 Early in the civil war, Azaz was prized as one of the most valuable border crossings into Turkey, and was a key route through which many rebel factions got weapons and additional international fighters. More recently, however, Turkey has clamped down on the border.
That's a big problem for the residents fleeing the ISIS advance, as they are increasingly clustering in and around Azaz, which is doubtless soon to be an ISIS target, and have no place to flee after that, with Turkey not letting anyone across the border.
Turkey has been faulted by human rights groups for its recent border crackdowns, noting that several incidents have seen Turkish border troops firing on refugees in northern Syria. Turkey has denied this, but reports of such incidents continue to grow.