The Minsk peace accords, which were supposed to lead to a resolution of the East Ukraine civil war, haven't made much progress in recent months, but Russian and Ukrainian officials today pledged to "intensify cooperation" in talks brokered by Germany and France.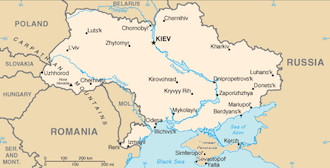 The Minsk deal was to grant increased autonomy to the eastern oblasts of Donetsk and Luhansk, and that those oblasts would end their rebellion. Little progress has been made to that end, with intermittent fighting on the frontier.
Ukrainian officials have complained the Russian-backed rebels haven't followed through on ending their rebellion, while the rebels note that the central government didn't deliver the autonomy and blocked them from holding elections.
German officials say today's talks centered on the possibility of holding those elections, though beyond the general pledge to "increase cooperation," it isn't clear what, if anything, this means for the possibility of having those elections any time soon.