Though senior White House officials were quoted on Israel's Channel 10 as saying that the cabinet shuffle in Israel would not impact ongoing "cooperation" with Israel, Israel's Channel 2 reported that the US had privately warned that Avigdor Lieberman's installation as defense minister "complicates" the aid talks.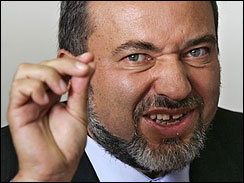 The US currently gives Israel $3 billion annually, under a 10-year deal that expires in 2018. The two nations are negotiating a new military aid package, with Israel seeking at least $4 billion annually and reportedly turning down an offer of $3.5 billion.
The US plans to up the aid, coming at a time when Israel is installing its most far-right government ever, complete with an ultra-hawkish defense minister, is likely to raise eyebrows internationally, and while it indeed probably won't keep the US from signing off on the deal, it certain does "complicate" the process.
At the same time, the US didn't particularly care for outgoing Defense Minister Moshe Ya'alon, who had publicly criticized Secretary of State John Kerry on occasion, earning some angry condemnations from US officials.
Lieberman's general hostility to the peace process, and his general hostility to most things, are likely to make him wildly controversial internationally, and if the US quickly signs a boosted aid package, it risks being seen both as endorsing Israel's latest shift rightward and everything Lieberman ends up doing in office.