Israeli Prime Minister Benjamin Netanyahu definitely called an audible in the ongoing coalition talks, which up until the last 48 hours appeared focused on bring the center-left Zionist Union into a more inclusive coalition, but instead are now bringing the already far-right government even further to the right with the return of AAvigdor Lieberman's Yisrael Beiteinu.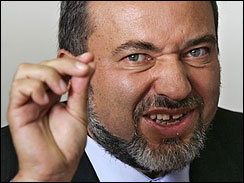 Zionist Union head Isaac Herzog reported that he was being pushed into the coalition talks by the international community, and that such a coalition would've been an "historic" moment. Instead, he says Netanyahu got cold feet when the talks turned to returning to the peace process, and Zionist Union was quickly cut out of the picture in favor of ultra-hawk Lieberman.
Lieberman's aggressive posture in all things made him one of the least effective Israeli Foreign Ministers in history, forcing Netanyahu to run international diplomacy out of the prime minister's office instead, and many are predicting his new post as defense minister will be even more disastrous, given his tendency to call for mass executions.
Polls show Israelis overwhelmingly prefer outgoing DM Moshe Ya'alon to Lieberman, though his recent admonishments that Israel's military needs to have a moral code and not just kill everyone at all times without question seems to have rubbed coalition partners the wrong way.
Even Lieberman's own party isn't united behind this new coalition, with MP Ori Levi-Abekasis announcing she is quitting to protest the move. She objected to the coalition talks' focus on military policy and the lack of talk of Yisrael Beiteinu's traditional pro-secular stance.
That's virtually obligatory, with the far-right coalition still including all the religious parties, but does portend a future fight between what's left of Yisrael Beiteinu and the ultra-Orthodox parties, as Lieberman has repeatedly accused ultra-Orthodox Israelis of disloyalty and picked fights with them historically. Keeping away from a touchy subject has never been his strong suit, and how long he can stay away from this fight remains to be seen.