A spokesman for Egypt's Army today claimed that heavy fighting in the northern Sinai Peninsula had left at least 60 "terrorists" killed and another 40 wounded, and that 27 pick-up trucks were destroyed around Rafah and Sheikh Zayed.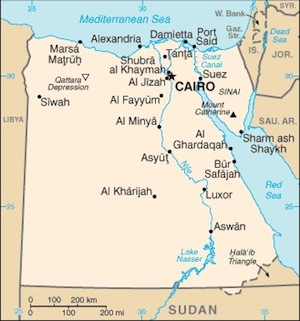 The attacks targeted suspected hideouts in the area, which commonly result in high death tolls, but also lead to disputes over whether the slain are actually militants or just civilian bystanders. Officials said the attacks were retaliation for last weekend's attack on Sinai police.
Egypt launched an offensive in the Sinai Peninsula after their summer 2013 military coup, accusing Islamist factions within Sinai of being in league with the ousted elected government of Mohammed Morsi. The largest Islamist faction in Sinai ultimately became an ISIS affiliate.
Though the expectation was that the military would fairly quickly overrun Sinai, this hasn't been the case, with heavy fighting happening frequently, leading to massive death tolls on both sides. There is no end in sight, despite heavy international support for the Egyptian junta.