Egypt's Interior Ministry is reporting that mortar strikes against a police checkpoint near the northern Sinai provincial capital of el-Arish have killed at least 15 police, including three officers, and wounded an unknown number of others.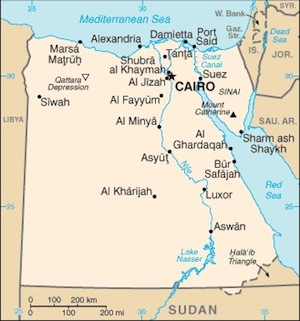 The local ISIS affiliate was quick to claim responsibility for the attack, and indeed has been behind the bulk of attacks in the fighting in the Sinai Peninsula since Egypt's summer 2013 military coup, which led to the junta launching an attack on Sinai Islamists they accused of being in favor of the ousted elected government.
The Sinai fighting has included massive offensives on both sides, with huge death tolls and very little indication that any conclusive resolution is near.
The ISIS affiliate was Ansar Beit al-Maqdis, who pledged loyalty to ISIS back in late 2014. Since then, the group has gotten considerably more aggressive, and launched major attacks, including downing a Russian passenger plane last year.