An ISIS car bomber rammed his explosive-filled vehicle into a military convoy near Ayn al-Asad airbase over the weekend, killing at least nine troops and wounding 16 others. ISIS bombers also rigged a house to explode in eastern Ramadi, killing six more troops and wounding five more.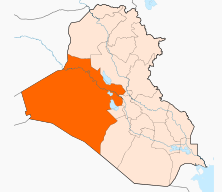 These incidents come amid the latest claims by US and Iraqi officials that they are fending off ISIS in the Anbar Province, a claim which centers on their "liberation" of Ramadi, the Anbar capital which was almost entirely destroyed in late December fighting.
Targeting convoys in Ayn al-Asad reflects the ever-increasing military buildup there, with thousands of US troops stationed at the airbase and ISIS trying to emphasize its proximity to the nominally "non-combat" troops.
The booby-trapped house in Ramadi is likely just the tip of the iceberg, as ISIS had over six months of control of the city to set up traps, and still has a significant presence across the heavily-damaged city, setting up more traps and ambushes that are likely to leave the city's population, overwhelmingly displaced last year, from returning.