The site of a 2005 US massacre of Sunni civilians, the Iraqi city of Haditha has been a touchstone for the nation's Sunni Arab minority, and one ISIS appears eager to get a handle on, as reports are that three days of particularly bloody fighting have left hundreds of combatants dead.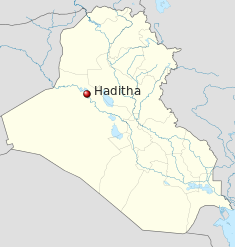 The figures are doubtless going to be in dispute, but in the past 72 hours at least 25 Iraqi soldiers as well as 25 Sunni tribal fighters allied with them were slain, while tribal forces claim to have killed "at least 250" ISIS fighters by themselves.
Haditha is one of several sites ISIS has begun contesting since the loss of Ramadi, reflecting their unwillingness to cede a high-profile territory without trying to take another one in return. ISIS has also moved against several military bases around Anbar Province.
Haditha would be a doubly valuable city, both because of its connection to the last US occupation and because of its proximity to Haditha Dam, another hugely important hydroelectric dam on the Euphrates River. Controlling such dams has allowed ISIS to have control over electricity generation, and to regulate water flow in the surrounding area.