The US-backed Syrian Democratic Forces (SDF), a rebel coalition which is dominated by the Kurdish YPG, has launched new offensives in the northern Aleppo Province, contesting the valuable area around the town of Azaz and seizing the village of Tanab.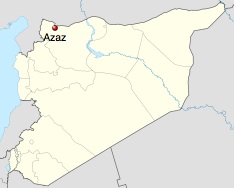 The Syrian Observatory for Human Rights also reported the SDF had captured Tat Mrash, though the SDF spokesman said they couldn't confirm if that was in fact the case yet, or if the village is still being fought over.
Unlike virtually all other operations by the YPG and its allies, today's fighting saw them moving further west, against al-Qaeda's Nusra Front and powerful Islamist militia Ahrar al-Sham. The town of Azaz is valuable to control of the Turkish border, and Turkey would doubtless object to the Kurds taking it over.
While the US has generally endorsed the SDF and has been seen guiding past offensives, the move against Ahrar al-Sham territory is a risky one for the US to get behind, as that militia, despite its own ties to al-Qaeda, is heavily bankrolled by Saudi Arabia and presented by them as a key "moderate" ally against ISIS.