ISIS forces attacked and for a time captured an Iraqi Army base near the Anbar capital city of Ramadi today, their first major attack in the area since Iraq launched their initial offensive against Ramadi, which they now largely control.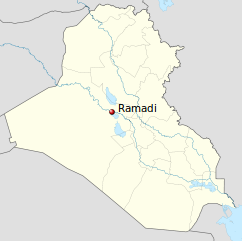 Six suicide car bombers hit the base first, softening up the defenses and allowing ISIS commandos to overrun the base in short order. Iraqi officials say they've since recovered the base, and are not disclosing the casualties on either side so far.
Pentagon officials confirmed US warplanes were involved in efforts to retake the base, but couldn't confirm the Iraqi claim they'd succeeded already, simply saying they believe Iraq would take full control of the base "soon."
In recent days, fighting has all but halted in Ramadi itself, though ISIS is believed to still hold a portion of the area. The city is reported to be about 80% destroyed, and there is no timetable for getting the situation to the point that civilians can return to it.