With stability in the country already crumbling at an alarming rate, Burundi is set to become an all-out warzone, as President Nkurunziza is now threatening military action against a planned 5,000-troop AU "peacekeeping" force, which is to be deployed to the country.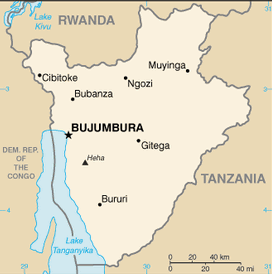 At the core of the dispute is a pair of different legal systems. The African Union (AU) system authorizes them to deploy troops to any member nation, even without permission, to try to restore stability. Burundi's own law, by contrast, says foreign troops can't come without permission.
Nkurunziza was reelected in July for his third term in office, in a hotly disputed and heavily boycotted election. Legally, Burundi presidents are only allowed to run for two terms, but Nkurunziza argued that his first term didn't count because he wasn't elected by popular vote. This led to a failed May coup attempt against him, and both the AU and US warning him not to run.
Nkurunziza's supporters have loudly protested against the threatened AU intervention, arguing that despite hundreds of thousands displaced internally, there is no real genocide threat within the country and that they have no business interfering.
Nkurunziza's own threats to turn the military against the AU, however, is a real game-change for the alliance, and sets the stage for Burundi's heavily divided military being asked to fight a 5,000-man foreign force.