Fresh off the Iraqi military declaring a full victory and "liberation" of the Anbar capital city of Ramadi, Prime Minister Hayder Abadi was in town to plant a flag, adding more hype to the "decisive" victory over ISIS, which they are presenting as a major shift in the war.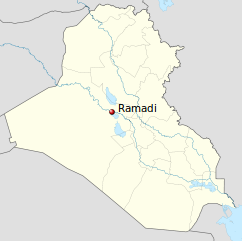 Though Iraqi media reported the flag planting went off without a hitch, the claim of "liberation" seems to have been dramatically undercut when ISIS ground troops, still inside Ramadi, opened fire on his helicopter. This led the army to concede that there are "pockets of resistance" to their takeover still.
This is perhaps unsurprising, as desperation to declare victory in Ramadi before year's end had already led the Iraqi military to announce that they had "full control" of the provincial capital building even though they hadn't even attempted to enter it yet.
After false predictions of a quick recovery of Ramadi after its loss in May, officials are eager to hype the new victory as decisive, but it remains to be seen if they can defend the city any more effectively than they did the last time, if and when they actually finish getting ISIS out of it.