Though the Iraqi military secured no gains in today's fighting in Ramadi, they bragged about a huge death toll among ISIS fighters, claiming "hundreds" of ISIS were killed since Tuesday and the city would be totally retaken in a matter of days.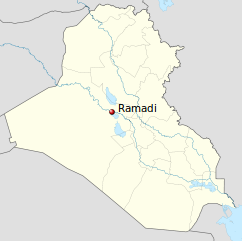 The death toll is noteworthy because they'd only estimated a couple of hundred ISIS fighters left in the entire city on Monday, and despite claiming once again to have killed at least that many there seem to be more than a few remaining.
Iraqi officials first moved into Ramadi earlier this month, and have been predicting victory in a matter of days ever since. The hope is to have it done by year's end. ISIS has held the city since May, and still holds key central portions, including provincial capital buildings.
A large number of civilians are still believed to be trapped in the city, though dozens were reported to have escaped into government-held areas as fighting raged in the afternoon. The city initially had around a half million residents, but on-and-off fighting there, as with much of Iraq, has left many displaced.