Fighting in the Daleh Province continued today, with pro-Saudi forces backed by warplanes attacking a Houthi site, killing 12 Houthis. Four pro-Saudi fighters were also reported killed in the battles.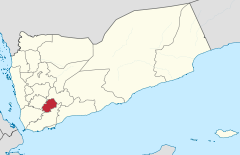 The pro-Saudi forces claimed to be making progress in an effort to oust the Houthis from the Daleh Province, though they'd claimed to have captured the province outright back in July, and are still fighting over several important towns there.
The renewed focus on Daleh, in the farther south, comes amid a mostly stalemated fight in both the Maarib and Taiz Provinces, each of which was supposed to provide troops from the southern port of Aden access to the capital city of Sanaa.
Pro-Saudi officials have been claiming "progress" in both Maarib and Taiz as well, though in neither case do they appear to have come close to outright control over the areas, and repeated predictions of a quick victory appear to be, as is often the case, premature.