Mysterious lights in the sky off the California coast, sighted from Los Angeles all the way to the San Francisco Bay, and as far inland as Utah, set off a flurry of confused speculation about UFOs or a comet which took over social media over much of the weekend.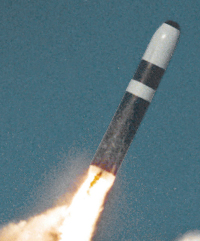 The reality was far less interesting, as officials later conceded that the light was actually a test-fire of a Trident II nuclear-capable missile from an Ohio-class submarine off the coast, part of what the Pentagon insists are "scheduled, ongoing tests."
Scheduled internally, it seems, but indications are that the Pentagon didn't tell anybody else about the secret tests, which are diverting aircraft landings at LAX for the next week and which created a lot of unnecessary panic, which has since given way to growing anger.
Many people seem uncomfortable with the Pentagon "testing missiles" by firing them over the second-largest city in the country, especially when they didn't tell anybody about it, but the Pentagon insists secret testing is necessary to prevent "potential adversaries" monitoring it. Objections aside, the Pentagon seems set to keep firing them wherever, and whenever, they want.