According to locals familiar with the situation, ISIS has carried out another mass execution in Iraq's Anbar Province, killing 70 members of the Albu Nimr tribe in Khanizir village on Sunday night. The Albu Nimr tribe has repeatedly resisted ISIS, and seen several massacres as a result.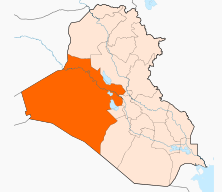 According to local sheikhs, the latest incident saw ISIS executing tribesmen who had family members fighting alongside the Iraqi military in the area around the Anbar capital of Ramadi, which is under ISIS control and being contested by Iraqi forces.
The US has in particular been pushing for Iraq to recruit Sunni tribal militias, like the Albu Nimr, to fight alongside them in Anbar, believing those forces will be less controversial in the Sunni-dominated province than the Shi'ite militias that generally back the Iraqi military.
Iraq has been seen focusing on the battle in Anbar in recent months, trying to surround Ramadi to cut off ISIS reinforcements, so far those efforts have failed dramatically, allowing ISIS to inflict casualties on Iraqi troops exposed in the attempt to surround them.