Over the weekend, local officials reported that Syria's government and al-Qaeda had reached yet another ceasefire in the city of Zabadani and the Idlib villages of Fuaa and Kafraya. Unlike previous weekend ceasefires, this one was to be an open-ended deal.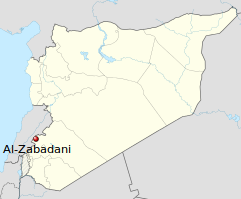 The ceasefire appears to have led to a further deal today, with the two sides agreeing to mutual evacuations from the areas. Under the deal, al-Qaeda will be allowed to withdraw its fighters from Zabadani to Idlib, and they'll let some 10,000 civilians in Fuaa and Kafraya flee from Idlib into government territory.
Fuaa and Kafraya are Shi'ite villages, and were left surrounded by al-Qaeda after recent military losses in the province. Zabadani is surrounded by Hezbollah fighters, who are trying to drive al-Qaeda out of the area along the Lebanese border.
Interestingly, while the deal effectively turns Zabadani over to the Hezbollah-led forces, it does not allow pro-Syrian militias to withdraw from Fuaa and Kafraya, meaning the villages will remain under government control, albeit without any civilian population.
Last 5 posts by Jason Ditz