Local officials have reported an agreement on another ceasefire between the Syrian government and the al-Qaeda lead Islamist coalition took effect at noon Sunday, covering the border area town of Zabadani and a pair of Idlib Province Shi'ite towns, Fuaa and Kafraya.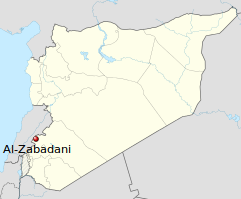 The two sides had made identical ceasefires on these same lines twice previously in recent weeks, but in those cases they were brief, time-limited ceasefires. This time, there was no deadline, and it is virtually an open-ended ceasefire in those areas.
The Shi'ite towns were pounded Friday before the deal was reached, and their defenses were questionable, as the Syrian military had pretty much abandoned Idlib after losing the air base there earlier this month. Zabadani, near the Lebanon border, has been off-and-on under siege by Hezbollah and the military.
The government may have felt they had no choice but to reach a deal to save the Shi'ite towns from being overrun, but the deal also runs the risk of giving al-Qaeda free reign in the Qalamoun Mountains area, between Damascus and Lebanon, which is where Zabadani is.
The ceasefire only covers those areas, so fighting could still happen along the Idlib-Latakia frontier, as well as in other areas in the south where al-Qaeda has a presence.