The Iraqi military has raided the Baghdad headquarters of the Shi'ite militia Kataib Hezbollah, a significant faction involved in the war against ISIS, after intelligence suggested they may have been behind this week's kidnapping of 18 Turks in the Shi'ite district of Sadr City.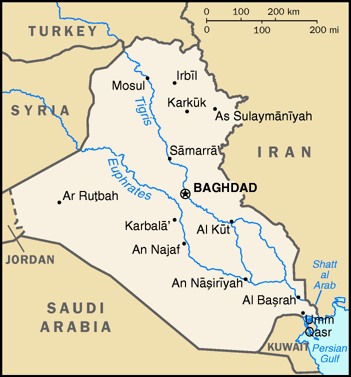 Troops were investigating a lead at a house in Mohandessen District when they came under fire from within. An Iraqi soldier was killed and two of the militia were wounded in the incident, which led to a move against the headquarters.
If true, this would be hugely complicating to the war on ISIS, as Kataib Hezbollah is a major ally on that front. Karim al-Nouri, the Iraqi government's coordinator for working with those militias, insisted that the search "proved" that the group wasn't behind it.
It is curious that the Wednesday kidnapping is still without official culprits. It was assumed that the kidnappers, whoever they might be, would follow the usual policy of seeking ransom from the Turkish company the men worked for, but so far that hasn't happened, at least not publicly. Though the initial suspicion in all such incidents is ISIS, that the incident occurred in a heavily Shi'ite part of the capital raised a lot of suspicion that one of the militias was looking for a pay-day by taking the workers.