While Iraqi and US officials have been hyping plans to surround the ISIS-held Anbar capital city of Ramadi, ISIS appears to have other ideas, launching a pair of ambushes over the weekend that left some 50 Iraqi soldiers killed in the area around Ramadi.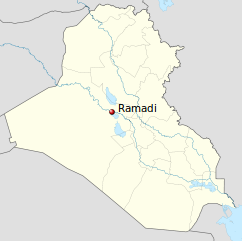 ISIS had claimed that Major General Qassim al-Dulaimi was killed in the second ambush, though Iraqi Army officials denied this, and said he was "lightly wounded." He may not enjoy surviving the attack at any rate, as the Iraqi Defense Ministry issued a statement later insisting the brigade commander had been fired for "failing to carry out his duties."
This appears to be in keeping with Baghdad's efforts to deflect blame in defeats to the military, with the official statement insisting that "those who want victory must be on the front line" in the ongoing war. Iraq has regularly disciplined or sought to outright imprison commanders who lost major battles.
ISIS captured Ramadi outright in May, chasing the last of the Iraqi military out of the important city. Despite predictions from the Iraqi government that they would quickly recover the city, so far there have been no major offensives against the city itself, and ISIS is believed to have shored up the defenses greatly over the summer.