Ukrainian military officials are claiming the biggest shelling in the country since the February Minsk ceasefire was agreed to. They claimed 400 rebel fighters with an unspecified number of tanks attacked the village of Starohnativka, north of Mariupol.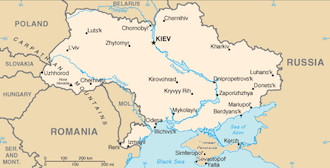 There've been skirmishes along the government-rebel frontier throughout the Minsk ceasefire, though it has more or less held. The rebels are denying any incidents today, however, and say they didn't make any moves near Starohnativka.
That's unusual, as normally fighting in eastern Ukraine is affirmed by both sides, with each trying to blame the other for the incidents. This is doubly so in shellings, as the Ukraine government often accuses the rebels of shelling themselves for no apparent reason just to try to deflect blame when incidents happen.
Ukraine's military claimed they shelled the rebels, halted the offensive and "regained lost ground." There were no reports of casualties on either side, despite the claims of intense fighting. Ukrainian officials suggested the incident could be the start of a new round of escalations.