Fresh off their recent cabinet approval, Israeli Defense Minister Moshe Ya'alon has ordered 18-year-old Mordechai Meir  into administrative detention, a manner of detention without trial or charges often used against Palestinians, and now approved for "Jewish terror" suspects.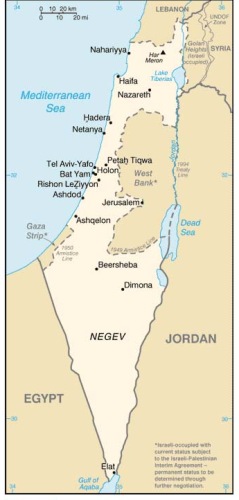 Meir is suspected of organizing an arson attack against a church, one of many "price tag" arson attacks carried out by settlers. The effort to stop price tag attacks has taken on new urgency with the recent fire that killed an 18-month-old Palestinian.
Administrative detention allows the military to hold someone for up to six months without any charges, and can be extended six months at a time more or less indefinitely. Some Palestinians have been held for many years under this basis.
Israel has also announced the formal arrest of Meir Ettinger, the grandson of far-right activist Meir Kahane. Ettinger is facing charges of leading an underground cell that was involved in several price tag attacks, and also published material instructing settlers in how to carry out such strikes. In 2013, Ettinger penned a "manifesto" calling for attacks to destroy the Israeli state, the mass expulsion of gentiles from the Levant, and the establishment of a new "kingdom of Israel."
Israel's far-right government faces in uphill battle in trying to tamp down violence from the even-farther-right, as their narrow majority relies heavily on support from the settler movement, and has long turned a blind eye to the "price tag" attacks as too politically dangerous to go after.
A special parliamentary hearing on the latest violence underscored the issue, as only a single member of the entire government attender, and he spent the entire hearing attacking the other speakers for criticizing the settler movement, and insisting the real focus should be on attacking the Arab minorit