An 18-month old Palestinian baby was killed and his parents and his four-year-old brother wounded overnight in an arson attack against a pair of West Bank homes in Duma. The attack was part of a series of "price tag" attacks carried out by Israeli settlers in the area.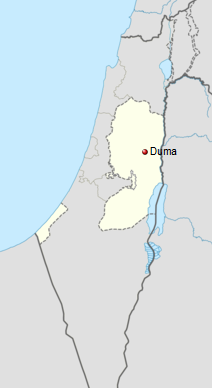 Settlers have regularly carried out price tag attacks against Palestinians across the West Bank, but usually limit the mayhem to vandalizing mosques and clashing tires. In this case, they burned two homes, killing an infant, and spraying painting the words "Revenge" and "Long Live Messiah the king" on the walls in Hebrew on their way out.
PLO officials declared the attack an "assassination," while the Israeli government insisted it was an act of terrorism. Though Israel promised to arrest those responsible, their track record in price tag strikes is poor on arrests, and even worse on convictions.
The slain baby was identified as Ali Dawabsheh, and his parents and brother are reported to be in critical condition after the fire. The neighboring house that was also burned was said to be empty, and had been for some time.