At least seven Libyan soldiers were killed today and five others wounded when ISIS forces overran a military checkpoint in the town of Ajdabiya, near a key oil port. 15 other Libyan soldiers are missing and their fate remains unknown..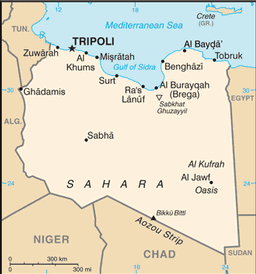 ISIS forces reported that they remain in control of the checkpoint, and also captured ammunition and military equipment in the operation against the checkpoint. Officials reported that fighting still continues in the surrounding area.
The checkpoint and soldiers in question are loyal to the "recognized" Libyan government, which operates out of the far-east city of Tobruk, and not the government which operates out of the capital city of Tripoli. Both forces fight the ISIS, and each other, on a regular basis.
The ISIS faction in Libya is only an affiliate of the parent organization, and pledged loyalty to ISIS last year. Since then, they have secured a considerable increase in recruitment.